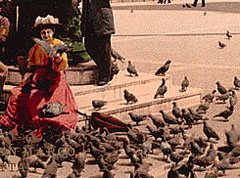 "The three most important factors in buying a home are, location, location, location!" - Source Unknown

Many condos are being built here in Toronto's waterfront, but this area has seen struggles to create many other types of housing as well. In 1997, people moved into the nearby Victory Soya Mill, calling their new home the "Rooster Squat" because of a giant rooster mural that was painted there. These people were eventually evicted and the building was demolished. Later in 1999, hundreds of homeless people built a "Tent City" in the Toronto Portlands, also not far from here. After living there for two years, Tent City residents were evicted by Home Depot security and police.

"What is denounced as 'utopian' is no longer that which has 'no place' and cannot have any place in the historical universe, but rather that which is blocked from coming about by the power of the established societies" - Herbert Marcuse

This area has changed a lot in over the past several hundred years, the lake was filled, industry came, industry left, the Gardiner was built, this area continues to change. Right now the waterfront is being redeveloped as the government has pledged over a billion dollars to the Toronto waterfront revitalization initiative. The plan is to connect cultural and economic development. This is great for lots of people including artists like us. Pigeon Condo has benefited from cultural investment in the waterfront. However, this investment comes with some strings attached. The actual construction of Pigeon Condo on this site was blocked. Some people working for the city thought that pigeon condo would draw attention to the homeless people who live near here. Currently Pigeon Condo remains only a virtual structure, a gathering place without a home, a model to help us imagine a better city.